Title:
Ebb and Flow (1/10) - "Neither Here Nor There"
Characters:
Jack, Kate
Rating:
PG
Spoilers:
Through the Looking Glass
Summary:
Off island, Jack and Kate contemplate their mistake and receive help from unexpected sources. Meanwhile life goes on for those they left behind.
Author's Notes:
Won best series in October 2007 and the 2007 "Fic I couldn't stop re-reading" award at
lost_fic_awards
.
by
halfdutch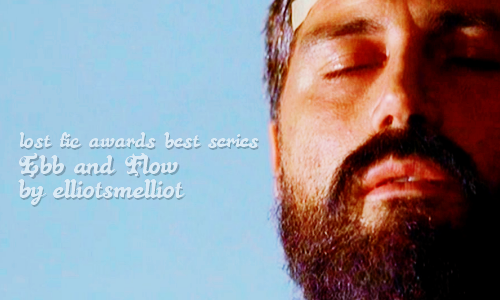 by
isis2015
Part 1 –
Neither Here Nor There
***
Part I - Neither Here Nor There
***
At first it was clowns. Sitting on him, laughing at him. A swirl of colours, big eyes, loopy smiles. Then it was cats, his grandmother's three plump Persians, perched on his chest, heavy and hot, purring like locomotives. Jack tried to push them off but his arms lay heavy at his sides. At one point he saw the boy, Michael's son, he couldn't remember his name, standing over him. He wanted to ask him to move the cats but his mouth felt like it was full of sand and when he strained to speak the grains trickled down his throat. The boy spoke solemnly to Jack for a long time but the words fell short of his ears. Then it was back to the clowns, crawling all over him, crowding him as if he was the small car they were trying to fit into.
Then everyone, everything, disappeared, leaving him alone. He felt lighter and cooler, almost weightless. He opened his eyes and saw the dark sky, stars scattered like diamonds across a black cloth. They twinkled and swayed. He couldn't tell if he was moving or if they were. He watched the stars for a while, soothed by their gentle dance. Someone squeezed his hand and he squeezed back. He drifted off again, thankfully the clowns didn't return.
The next thing Jack remembered was the overwhelming smell of fish. It made him retch and that small movement awoke a pain that swept across his body. Voices whispered around him. Strong rough hands grasped his shoulders, tilting his head up. He feels warm water touch his lips, a thirst he didn't know he had overcame him. He drinks greedily but it doesn't sooth the burning in his throat. The water comes up as quickly as it went down, splashing his neck and chest. Someone turns him on his side, pats his back.
He opens his eyes, unfamiliar faces peer at him. They're speaking to him, an Asian language. He hears someone else gasping above him. He twists up to look and sees long tangled hair draped over the side of the bunk. A surge of adrenaline shoots through him as the last few days come rushing back. The island. The sickness. Kate.
***
March 23, 2005
Two Oceanic Crash Survivors Rescued
Christchurch – NZ
Associated Press
Seven months after Oceanic Flight 815 crashed into the South Pacific Americans Jack Shephard, 37, and Katherine Austen, 27, were found by the Korean fishing vessel Iri, off the coast of Gambier Islands in the South Pacific Ocean. Originally it was assumed all 249 passengers and crew on the ill fated flight were killed in the 2004 accident.
Found floating unconscious in a small water craft, the Iri crew retrieved Shephard and Austen and took them to Stewart Island, New Zealand. They were treated in the Oden Medical Centre for dehydration and a viral infection before being airlifted to Christchurch.
Dr. Paul Maliwall, the physician who treated Shephard and Austen at the Christchurch Hospital, said the pair were in remarkable shape given their ordeal. They are expected to be released within a week.
Thomas Scout, a representative from the American consulate in Auckland, spoke at length with the survivors. He reports that Shephard and Austen had escaped the crash uninjured and managed to find an inflatable raft in the wreckage. They sailed to a small uninhabited island where they survived on a diet of fruit and fish for 191 days.
The main wreckage of Flight 815 and hundreds of bodies were discovered in October 2004, approximately 200 kilometres from where the Iri found Shephard and Austen. A representative from Oceanic, Leslie Welsch, reported that the airline planned to reopen their investigation into the crash and start a new search for survivors.
Oceanic 815 disappeared approximately six hours after leaving Sydney en route to Los Angeles on September 22, 2004. Wreckage was found the following day but it was weeks before a specific crash site was identified. The three month investigation determined the cause of the accident to be pilot error. Oceanic and Boeing are part of an ongoing class action lawsuit launched by the families of the survivors.
"I am both elated and dismayed at the discovery of survivors," said Sabrina Carlyle, a plaintiff in the lawsuit. "It's a sign for all of us that there's still hope. My son could still be out there too, waiting to be found. Unfortunately, this also demonstrates the extreme negligence that occurred in the first search and rescue."
Shephard, a surgeon, is a resident of Los Angeles. He was reunited with his mother yesterday afternoon. Austen, a graduate of the University of Iowa, spent the year before the crash travelling through Australia.
Also on board Flight 815 were Kal London, Under Secretary to the Australian Minister of Defence, Robert Hoffman, founder of the Sydney based publishing house Dividia, and Charlie Pace, bassist for the English band Driveshaft.
***
Jack's mother squeezed his hand as the flight took off. She asked him about a dozen times between the safety demonstration and the start of the film if he was all right. He repeatedly assured her he was fine. She had forgotten this was the second time he had flown since the crash. He remembered every moment of the shaky charter flight from Oden to Christchurch, the passenger cabin hardly big enough for the nurse to sit between his and Kate's stretchers. The noise of the engine obliterated the need to speak or listen. He had spent the flight watching his IV drip, almost in time with Kate's. She had slept through it but he could tell, as he glanced across the aisle, that she was only pretending to sleep now, feet curled up in the empty seat beside her. A flight attendant had tucked a navy blue blanket around her, a duplicate of the ones they had slept on for seven months.
Once his mother drifted off, relaxed enough by the wine and pills and her son's reassurances to take her eyes off him for a moment, Jack unbuckled his seat belt, and went to the bathroom. He locked the door and leaned his head against it. He stood there for several moments, feeling the faint vibrations of the plane hum through his skull.
A series of memories pulsed through his mind, his senses still more there than here.
Waking after the crash, the peace he had felt until his hearing returned and the roar of the jungle clashed with the cries from the beach.
Palm trees waving in the wind, the Pilot's blood raining down, and his father's cracked coffin.
Holding Aaron so soon after holding Boone, feeling confident pointing a gun and pulling the trigger, and the sound Charlie's sternum made when it cracked.
Desmond's eyes filling with recognition, Michael's retreating figure, and Juliet holding out a plate with a sandwich on it.


Sinking the scalpel into Ben's skin, Locke threatening to shoot him, and the Dharma helicopters arriving with a torrent of violence.
The most recent memories felt the most distant, as if carried off by the confusion of his fever. First it seemed like a blessing, when the sickness struck their attackers, sparing the crash survivors and Ben's people. Then it spread, hitting indiscriminately. Jack insisted the temple campsite become quarantined. He recalls Sayid's sad resolve as he escorted the uninfected away, leaving Jack to care for Richard, Cindy, Karl and six others whose names he never knew.
He fell sick when digging Cindy's grave. He has no memory of Kate returning to care for him, and then already sick herself, dragging him to a rowboat left behind by Dharma. She later told him that Walt had appeared to her, told her getting off the island was the only way to get rid of the infection.
They discussed this in the hospital, after they had told the embassy clerk everything, after they repeated it all to her supervisor, but before Kate's stepfather arrived with a warning and a plan. They were to say they were the sole survivors, this would maximize the safety of their friends and themselves. He assured them a rescue was underway, had been for a while, but it would take more time to ensure the right people got to the island first. He promised he could get Kate immunity for her cooperation. He told them they were being watched.
Jack agreed. Kate did not. Time was of the essence she said – for anyone who could still get sick, for Sawyer who had been shot again in the last fight with Dharma, for Desmond who was losing his mind, for Sun, especially for Sun. The more people who knew, the safer they would all be. Jack disagreed – safer for us, maybe, but not safer for them. Finally she agreed or at least relented. She had stopped saying much of anything to him.
He had not regretted the decision until last night. A woman phoned his hotel room, a mixture of Spanish, English and sorrow poured through the line. Did he remember her son, she asked. He was memorable, you probably would remember him, she insisted. Maybe you spoke to him. He was friendly, a big man, curly hair. He said sorry and hung up.
He turned on the tap and cupped some water in his hand, swallowing a sleeping pill. He avoided his reflection as he rubbed his eyes and splashed water on his face. He unlocked the door and looked down the aisle. Kate was sitting up watching him, staring as if she had been inside his head the whole time he was in the bathroom.
He sat beside her and she look away.
"How are you?" he asked.
"Charlie was in there when we crashed."
"I didn't know that."
"Do you think if Michael and Walt made it, they offered them the same deal?"
"Maybe."
Her fingers tapped the window. Her face reflected back in the darkness, small, closed and tired.
"They could be below us right now."
"I know."